On the 17th October 2018 the ceremony for the formal award and presentation in recognition of the students Dan grade achievements was held at the Longbridge dojo. The grading was held at the dojo on Wednesday September 13th 2018.
The ceremony was attended by sensei Susan Hession (4th Dan), sensei Dorien Cummins , Carol Richards, Faye Tonkinson (2nd Dan) and Richard Amuzu (4th Dan).
The ceremony is a moment to recognise the progression of the students which included one student Bethany Bird achieving Nidan plus three other students in attendance achieving Shodan.
Students were also awarded special mementos from the late Shihan Cyril Cummins collection to acknowledge their outstanding contributions to the club presented by Sensei Dorien Cummins, a former BHSKC instructor & club secretary and widow of the late Shihan Cyril Cummins 8th Dan. Shihan Cummins was the founder of BHSKC and started the Weoley Castle dojo that became Weoley Castle Shotokan Karate Club and instructor to Sensei Susan Hession the current Chief instructor of both clubs.
The certificates and awards were presented to:
Bethany Bird – 2nd Dan (Nidan)
Michael Paul – 1st Dan (Shodan)
Daniel Ray – 1st Dan (Shodan)
Jacob McBride – 1st Dan (Shodan)
Daniel Ray – Shihan Cummins Katana Set
Michael Paul – Shihan Cummins Wakizashi
Faye Tonkinson – Shihan Cummins Competition Statuette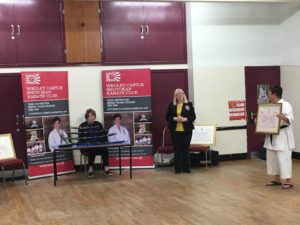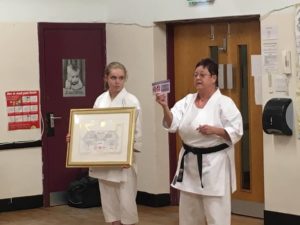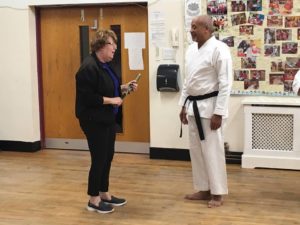 Black Belt Certificate Presentation and Awards Ceremony October 2018